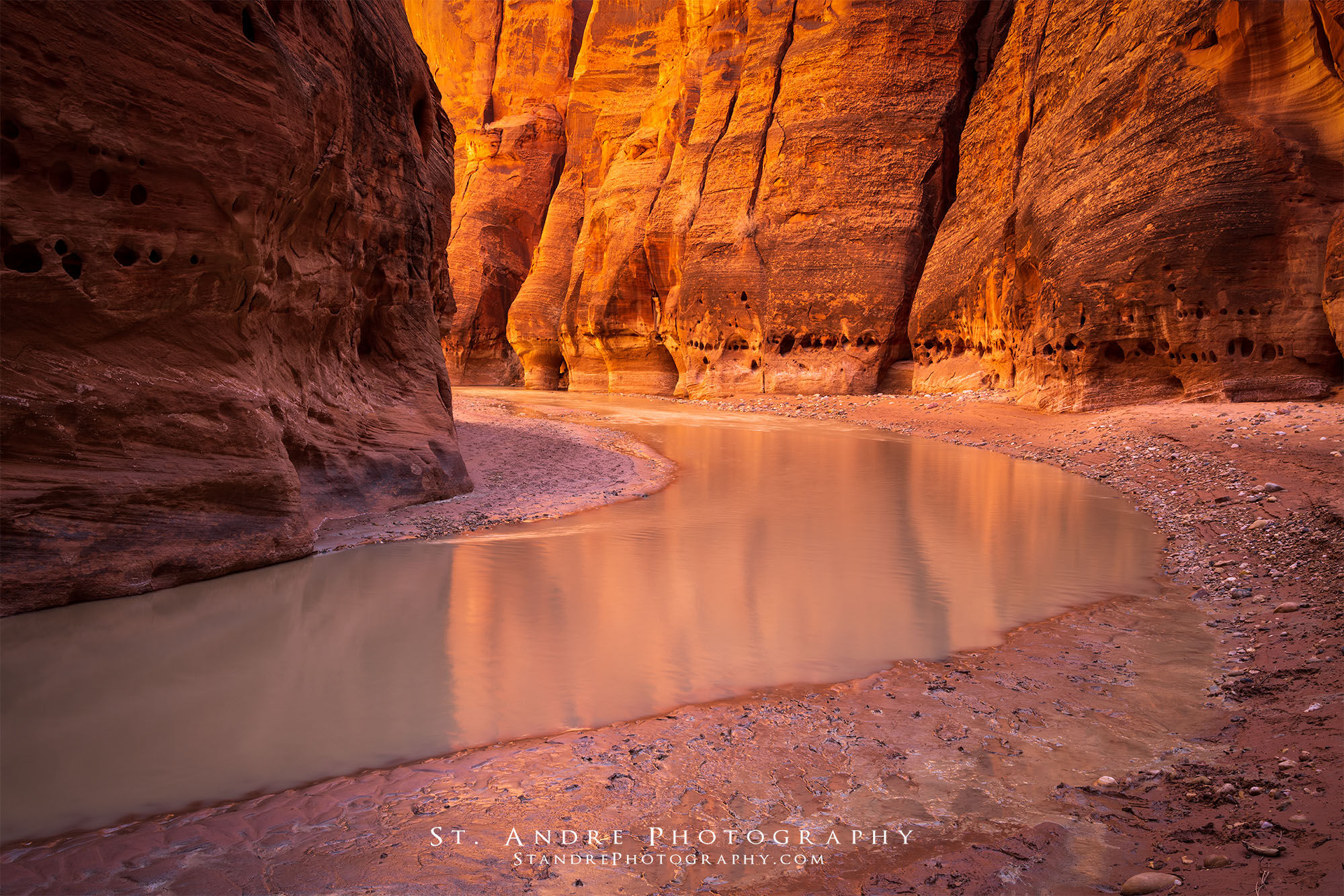 The Paria River shows up regularly as one of the most famous backpacking trips in the United States. I just had the opportunity to go, so let's talk about it.

I am going to state this right now, the best cheap material for planning your trip in the way of maps and details on the trail is the 4-8 dollar flip map/guide produced by the BLM. It shows way more springs, and points of interest than any other map I can quickly find online. Save yourself time and energy and get it at the BLM visitor centers if you plan on doing this hike. The next best guide is from this lady on her site.
Our Route
There are websites that discuss all the different routes hiking details and so on, this is not one of those. For photographic reasons, we ended up changing our initial route plan and ended up going down the middle entrance of Buckskin Gulch. One thing to note here, middle Buckskin is sketchy to get down. It is categorized as a class 4 scramble which means it is steep with little to no wiggle room for error. If you slip and fall, there is a good chance of injury or death. If you are confident in your skills you can do it without a rope, but a rope is a good backup option to help hand line your way down if needed. The attachment point for the rope is lacking, so be aware of that possible issue.
From there we photographed our way out of Buckskin. A note for someone looking for Buckskin pool data. We did not encounter any pools of water in the lower half of Buckskin (from the middle entrance to Paria). There were pockets of muck that were navigatable, but nothing we couldn't get around without getting wet or muddy. The boulder problem was navigable without any issues. Water showed up about the last quarter mile before the Paria Confluence.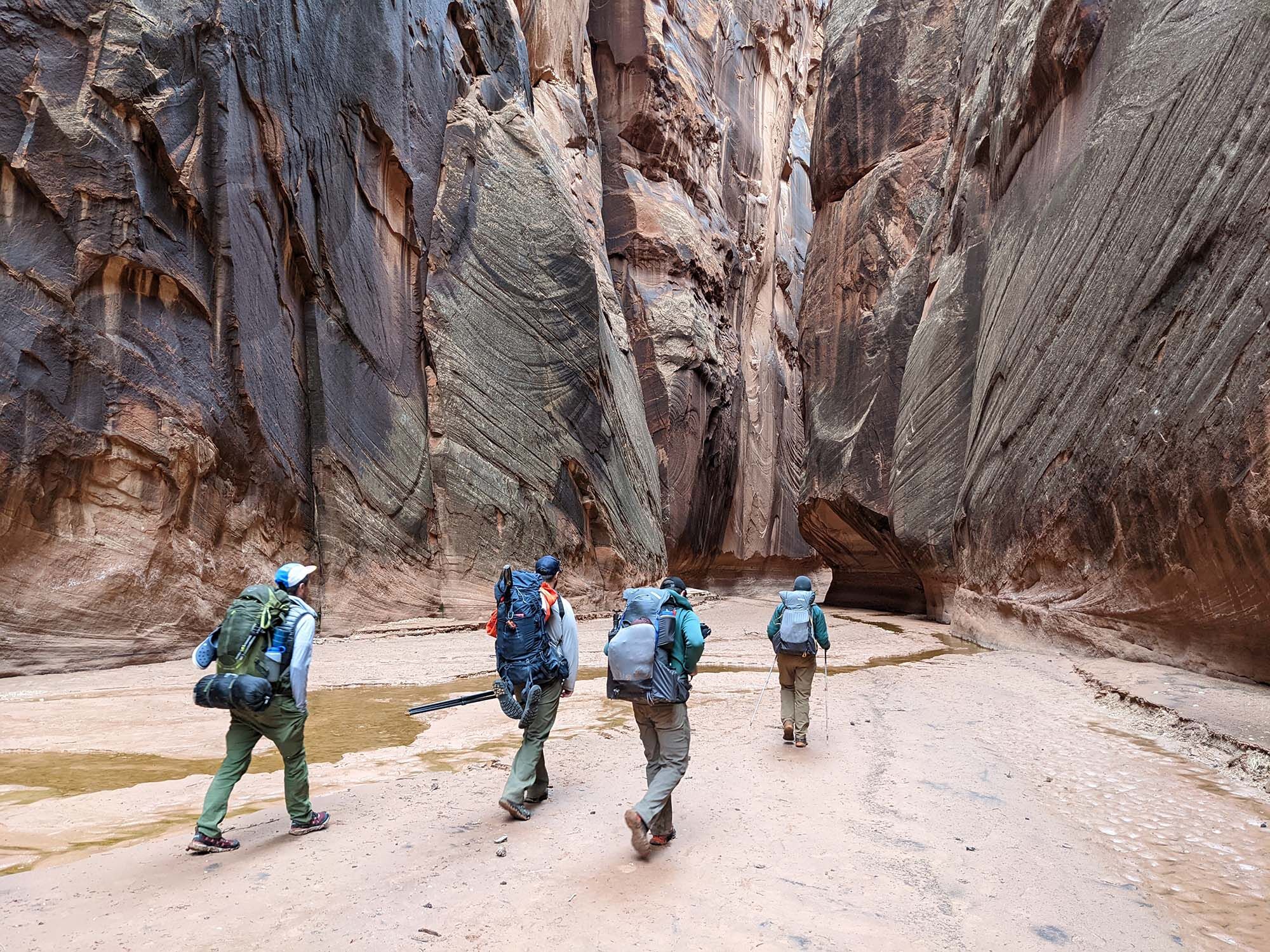 After reaching the Paria we went down to the first reliable spring in the system at the first major fissure that bisects the canyon (They are obvious on google earth). Here we set up camp and made plans for the next day. Due to bad weather coming in on day three of our trip, we ended up cutting the trip two days early and leaving on day 2 foregoing seeing the entire canyon. In order to get the most out of the canyon, we explored down to Big Springs and then turned around and headed towards the Paria River campground and got out of the canyon at 8PM that night.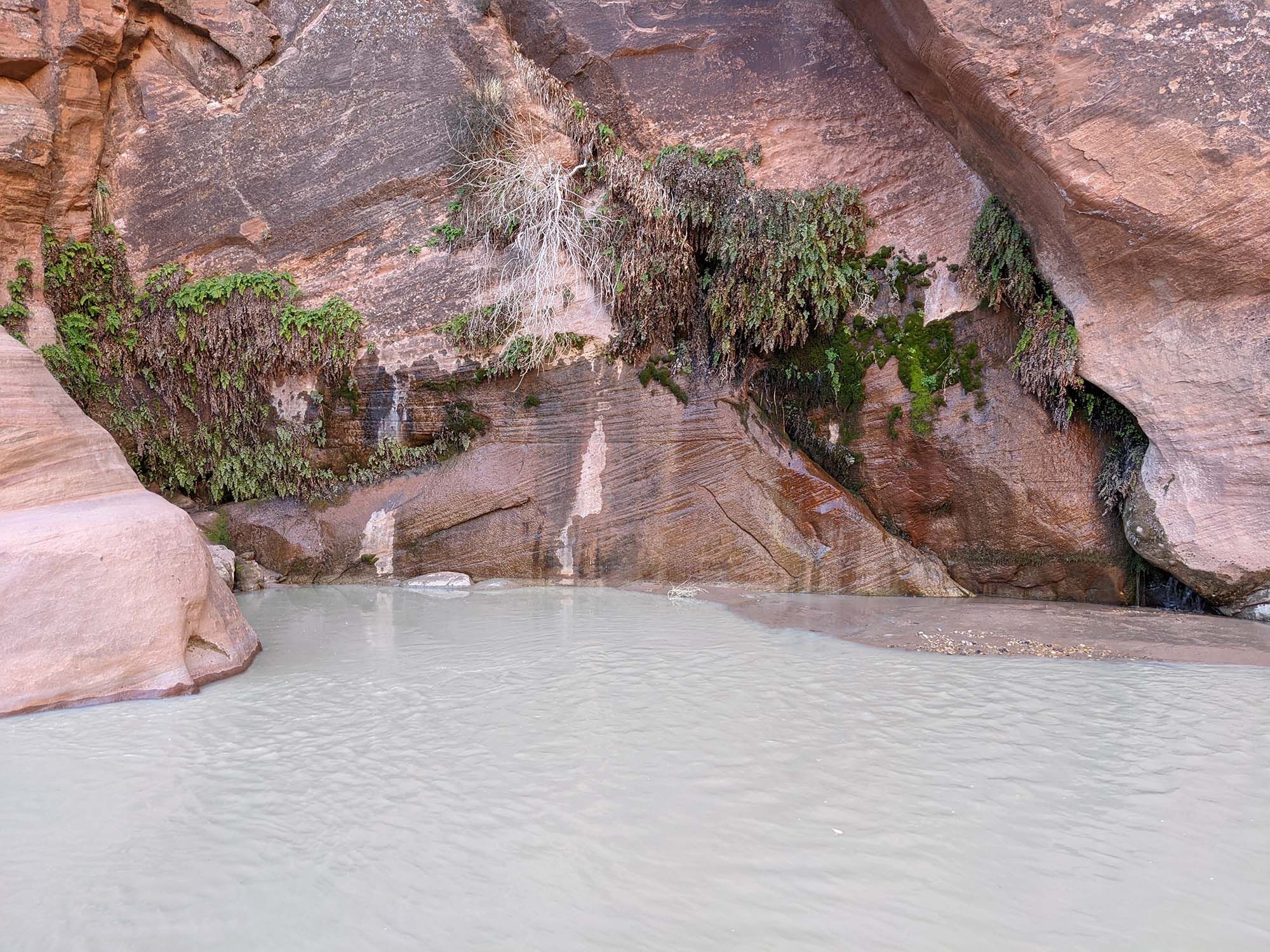 What did I bring?
Now take into consideration when I left on this trip, March 8th, I packed for colder weather. In March the water comes primarily from snowmelt and the water is only warmed for about 12 hours a day from a sun that hangs still low in the sky. So I packed like a man who was going to be in cold wet conditions for a long time. In summer I would pack less clothing.

A couple things of note before I go forward. First, you need a permit for all hiking and you need to get that in advance for overnight trips and at the trailhead for day trips. Second, WAG bags are required for this hike. You cannot bury your poop in this canyon, there is not enough room in this canyon for both pooping and camping. WAG bags are given when the permit is picked up for backpacking. They give you one for every two days you are on the trail.
Gear List:
Kylimit insulated sleeping pad
eggshell pad to go under that. (didn't end up using)
30-35 degree sleeping bag
Under Armor top
thermal underwear
wool socks
fleece
quick dry long sleeve shirt
hoodie
rain shell
REI gortex waterproof pants (If you are going in colder months these types of pants are essential)
waterproof socks for day hiking. (I couldn't find my good neoprene socks, these worked fine but struggled still to keep my feet warm)- Consider getting SEAL skin socks
Two pairs of quick-dry pants, one for dry conditions one for wet conditions
beanie
Chacos sandals for camp shoes (I suggest the ultralight if you need a pair, they make for a second backup pair of shoes as well)
Saucony trail runner shoes (old pair to kill on the hike)
3 WAG bags
boiling pot
fuel+burner
Camera Gear

Canon R5
Tamron 15-30 f2.8
Canon 24-105 f4L
Battery
2 SD cards (I only used 1)
Feisol Tripod
RRS BH-40 Ball head
Food
Three mountain house dinners
Oatmeal for 2 breakfasts (one mountain house)
Lunch-Tortilla, chicken in packets, cucumber, sweet bell peppers, cheese sticks
Energy bars (Lura Bars)
Snickers for victory
Other various snacks.
Photographing the Canyons
I did end up bringing two lenses on this trip, one was my ultra-wide Tamron 15-30 f2.8. This thing is a whale and very cumbersome. I also brought the canon 24-105 f4L. For Buckskin gulch the Tamron ultra wide was hands down the best lens to bring. I find in slot canyons you are trying to bring as much into frame as possible due to the confined space, thus all my images taken within that canyon were at 15mm.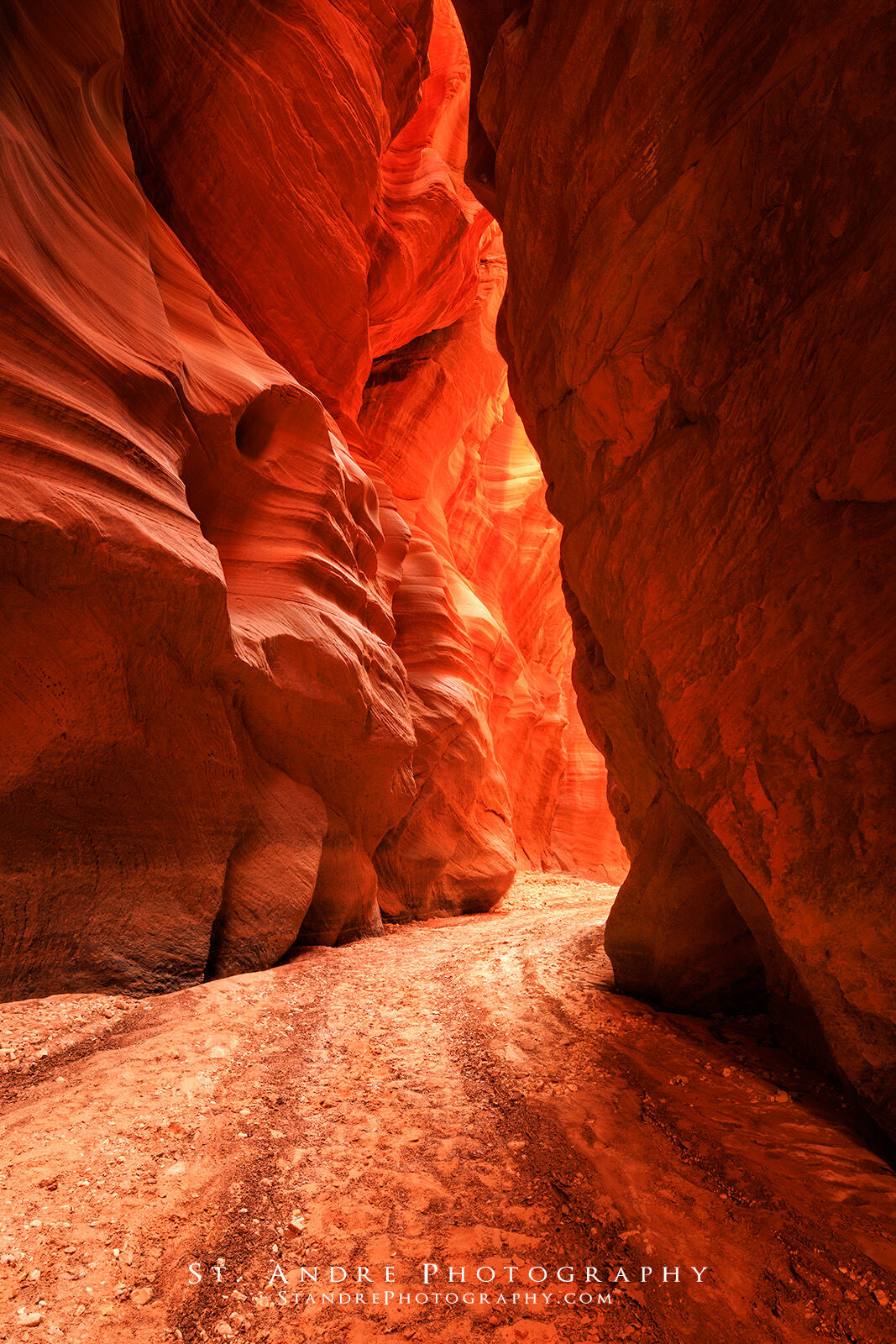 The Paria River
First off, lens choice is a personal one. I first began with my 15-30 but found I kept zooming into 24mm or more so I switched to the 24-105. I think this is probably the best lens for photographing big canyons like this, particularly the Paria. Since the river in this canyon looks like chocolate milk, the river is not really your best friend compositionally, it's all in the walls and the foliage when present (In early march the trees have no leaves).

Once again, the best light to work with is bright mid-day light that's reflected. Under overcast conditions, the canyon becomes very monotone and lacks pazazz besides the views. I found that the Paria River had a longer window of good color but one trip in spring is not a good sample size to really know. The Paria River lacks good riffles for the foreground, so do not plan on expecting to see many decent images with good rapids.

Now one thing to note, when photographing in slot canyons try to find reflected light, which is the warm glowing light that is found within canyons when light bounces off one wall and hits the adjacent wall. Also in order to improve the outcomes of those photoshoots, I would suggest not including any rock directly lit up by the sun as that can be too bright and too distracting for the image. In deep canyons like Buckskin, the best light usually happens for about two hours before noon and two hours afternoon.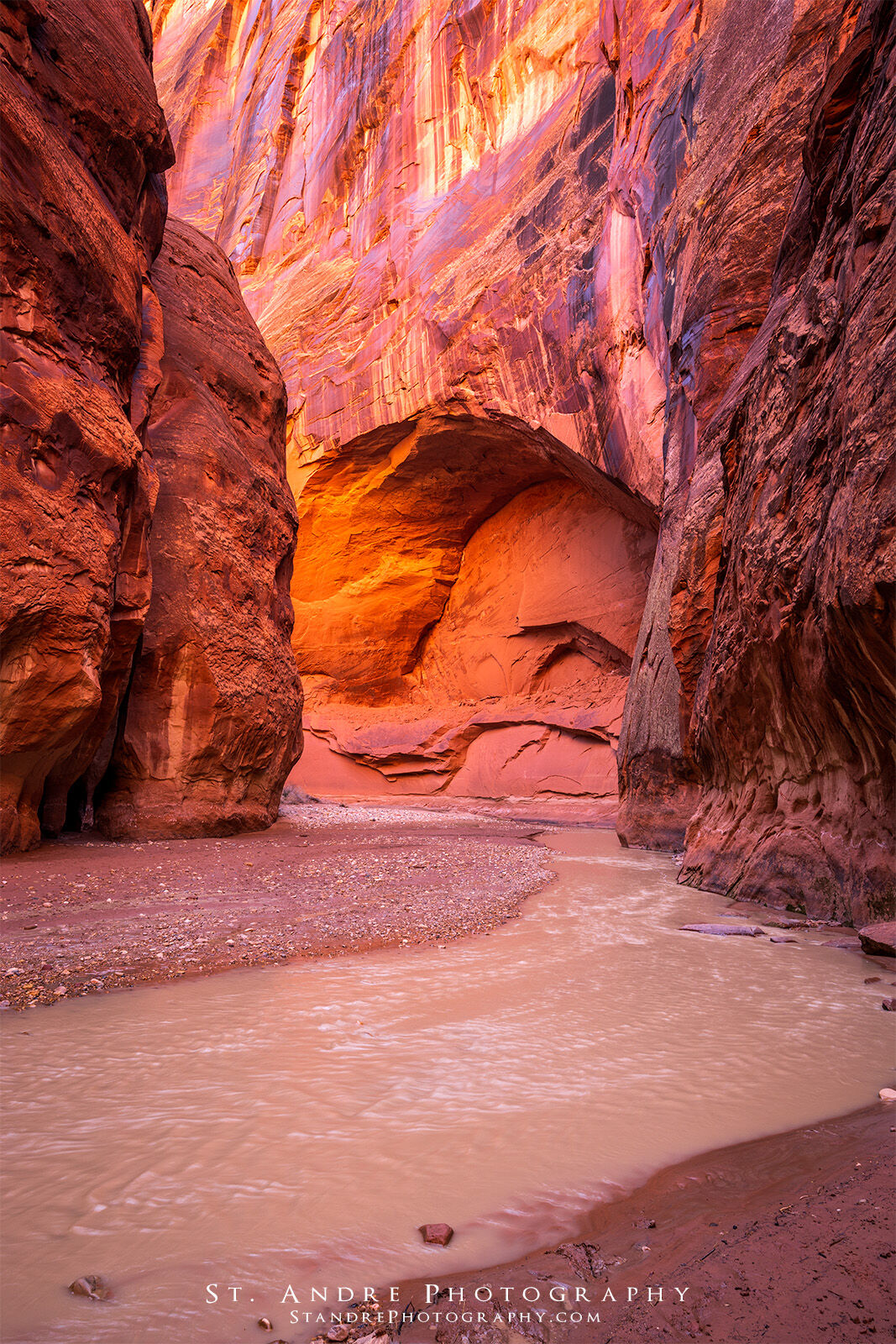 The primary things of note along the way are the huge alcoves throughout the canyon. There are some at nearly every major turn in the river with the image above being one of the larger ones we saw. Each alcove also has its own flavor of interesting so focusing on these can provide good compositions elements to photograph. Slide arch was the only major arch we saw on the trail, but I did not get the best images of it, so I cannot say much about it photographically.